PRIMARY HUMAN HEPATOCYTES
AnaBios is Your Source for High-Quality Human Hepatocytes
AnaBios primary human hepatocytes provide the most comprehensive metabolic activity for researchers studying liver function and drug metabolism. Our hepatocytes are carefully isolated and characterized to ensure excellent quality and consistency. AnaBios hepatocytes have demonstrated high viability and functionality, making them an ideal model for predicting drug metabolism and toxicity in humans. 
Our tiered qualification process involves multiple stages of testing to ensure superior quality and consistency of hepatocytes across multiple lots.

Large hepatocyte lot sizes enable researchers to perform experiments with the same batch of cells for extended periods, reducing experimental variability.

Our high cell viability allows for more accurate and reliable prediction of drug metabolism and toxicity in the human liver.

Extensive donor information provides researchers with a deeper understanding of the variability in drug metabolism and toxicity responses across different patient populations, enabling the development of more personalized medicine

 

AnaBios offers fast, reliable shipping for domestic and international orders.
OPTIMIZE YOUR
EXPERIMENTS
AnaBios Hepatocyte Medium Kit is a specialized solution designed to facilitate the safe and efficient thawing process of cryopreserved hepatocytes.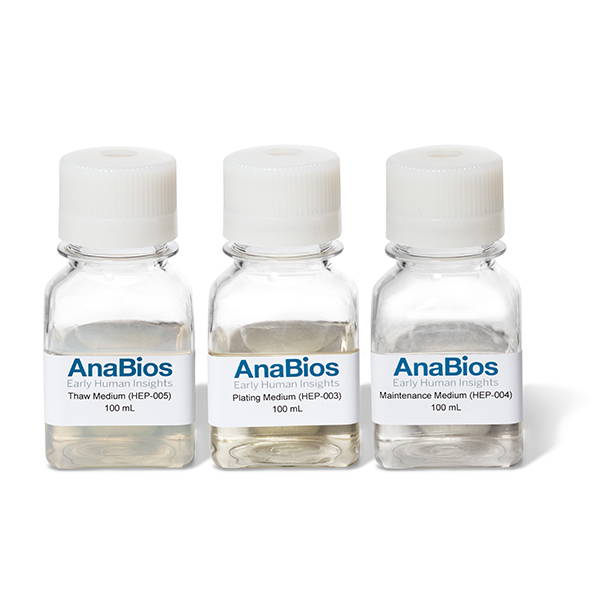 Acceptance of Cell Systems cells as documented by placement of an order for Cell Systems products by an authorized representative constitutes knowledge, understanding, and binding acceptance of all binding restrictions on behalf of the recipient institution or enterprise.